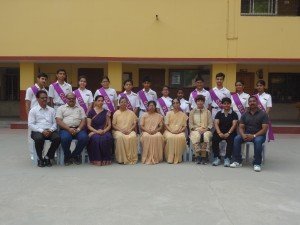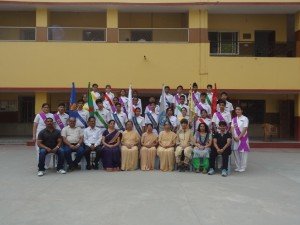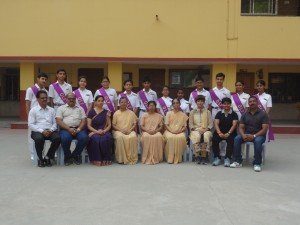 Our Lady of Fatima Hr. Secondary school had the Installation ceremony of the Office Bearers for the current scholastic year 2016-17 on 30 th April, 2016. The ceremony began with a hymn, invoking God's blessings to help each one perform their duties earnestly. Upholding the purpose of the house system of the school the office bearers were reminded of their responsibilities and pursuit of common ideal on the path of uprightness.
The Head-Boy and the head- Girl along with the Sports Captains, House Captains, Vice-Captains, Junior-Captains and Discipline Monitors took the oath to live up to the school motto " Absorb and R
adiate."
The leaders were sworn to inculcate a spirit of discipline and strive harder to prove their mettle with cooperation and friendliness.
Each office bearers was offered the badge and band of honour by Sr. Sabina , the Manager of the school.  The ceremony concluded with a hymn and blessings by Sr. Deepti, the Principal of the school who encouraged the students to work harder and to be worthy of their post.
The Office Bearers were as follows;
OFFICE BEARERS FOR THE SCHOLASTIC YEAR – 2016-17
HEAD BOY (N) – FAKHEEM SAQLAIN LABIB X – A
HEAD GIRL (T) – BUTOOL ZAIDI X – C
SPORTS CAPTAIN (BOY) (G) – ANIMESH SINGH X – C
SPORTS CAPTAIN (GIRL) (S) – SOMYA SINGH X – B
CAPTAIN (G) – SHUBHANKAR VARSHNEY X – B (BOYS)
CAPTAIN (N) – MEHUL VARSHNEY X – D
CAPTAIN (S) – AMNA ZAHEER X – C (GIRLS)
CAPTAIN (T) – SHREYA YADAV X – A
VICE CAPTAIN (G) – KUSHAGRA VARSHNEY IX – B (BOYS)
VICE CAPTAIN (N) – FARAZ AHMAD KHAN IX – A
VICE CAPTAIN (S) – ANNIE SINGH IX – B (GIRLS)
VICE CAPTAIN (T) – SUVARNA SINGH IX – B
JUNIOR CAPTAIN (G) – LAKSH KAMAL PRAKASH VIII – B (BOYS)
JUNIOR CAPTAIN (N) – MUDIT MAHESHWARI VIII-D
JUNIOR CAPTAIN (S) – GUL ZEHRA RIZVI VIII-A (GIRLS)
JUNIOR CAPTAIN (T) – NAMRA KHAN VIII-B
DISCIPLINE INCHARGE
X KEERTI SINGH (G) X – A
TAMKEEN FATIMA (N) X – D
APOORV GOYAL (S) X – D
ASHHAR AYAN (T) X – D
IX SADIA AIMAN (G) IX – B
VAGMITA BHARDWAJ (N) IX – C
ANIMET VARSHNEY (S) IX- C
TANISHK AGARWAL (T) IX- D
VIII SHOMILA SARWAR (G) VIII – A
PRERNA SINGH (N) VIII – B
PAWAN DEEP SINGH (S) VIII – B
FARAN IMAM (T) VIII – A