"Sr. Cryrilla was elected as the Superior General of FSMA congregation in the year 2013. She was the Provincial superior for the two terms that is a period of 12 years. She was also Directress of the junior sisters for many years and has wide experience in several fields both in the religious and social spheres. She is trained postgraduate and holds a degree in Theology.
Before she became Superior General she was working with homeless children at Snehasadan, Mumbai as a House parent and has 22 years of experience of living with them. Snehasadan is a home for street children. She has been a very efficient administrator in her teaching career as well. She is the author of a book"Walking with the angels".
In the book, she has depicted through all her stories, how every situation we encounter is designed to make us understand the presence of God in our lives.
These stories bring the reader to the realization that peace comes from within by reflecting, trusting surrendering and serving the Lord. Desires of worldly pleasures cause conflicts. By working with street children, homeless boys and girls; sister has become very compassionate and empathetic especially towards the downtrodden."
Our Lady of Fatima organised a welcome function for Sr. Cyrilla on 20th August'2015.
Sister arrived at 7:45 AM and the function began with a Prayer dance by class 9th and 10th.
The school coir group sang a beautiful and melodious welcome song and extended a warm welcome to Sr. Cyrilla.
Sr. Deepti, the school principal addressed the students with a welcome speech in the honor of Sr. Cyrilla and told everyone about the glorious accomplishments of Sr. Cyrilla and her life journey till the present day.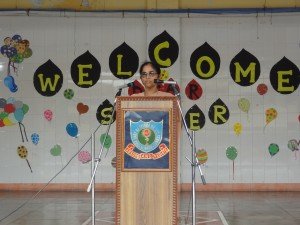 Following, girl students of class L.K.G. and U.K.G. performed adorably dressed in white frocks with a red balloon in their hands on various nursery rhymes.
After this, class three students along with one their teachers painted a beautiful morning scene on a canvas depicting the importance of Sun.
This was followed by a very educational and interesting skit by class 5 on English grammar and the use of present, past and future tenses.
Following, were two beautiful dance performances by class U.K.G girls: Peacock dance and Rajasthani folk dance.
After this superior General, Sr. Cyrilla addressed the students and gave them the mantra of Success.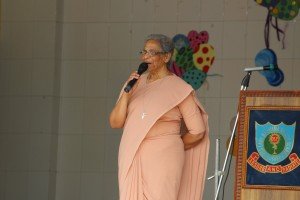 In the end, the head girl, Shubhangi gave vote of thanks.